New Head Office for TECE Austria, Ebreichsdorf - AT, 2014
Invited competition, 1st prize winner
The building will be the headquarter of the German firm in Austria and contains the firm's showroom, offices as well as a seminar and training centre for architects and practitioners.
Aim of the design was not to visually represent the firm but to embody the corporate identity of TECE architecturally. Instead of using logos or symbols the proposal generates a distinct and characteristic architectural appearance and atmosphere through architectural means, such as geometry, spatial sequences, materials and colours. The architectural features choosen are the streamline - to refer to TECE's occupation.
The previous architectural image of TECE is a box surrounded by landscape features. This motif is transformed into a floating volume that corresponds with an artificial topography below. The foyer and showroom are open and transparent spaces which are visually connected with the exterior. Interior functional areas are articulated and defined by the undulating dynamic ceiling and furniture which develops out of the ground. An atrium connects the two levels and creates an airy atmosphere. The complex ceiling structure will be realized as ephemeral strings. This will allow a play of surface and depth and mixing of colours. This weight-light and cost efficient solution also provides a subtle and atmospheric method to integrate the corporate identity by using the firm's main colours.

Start of construction: 2015

Client: TECE GmbH

Architect: soma ZT GmbH

Team: Martina Johanna Lesjak,

Alexander Matl

, Christoph Müller, Hannes Tallafuss, Ondrej Kloub, Andreas Körner, Moritz Hanshans, Andreas Ettmayer

Structural engineering: Bollinger Grohmann Schneider ZT GmbH

Facade planning: Bollinger + Grohmann Ingenieure GmbH

Building physics and fire protection planning: kppk ZT GmbH

Landscape design: LandInSicht

Building systems: Kainer KG

General contractor: Porr Bau GmbH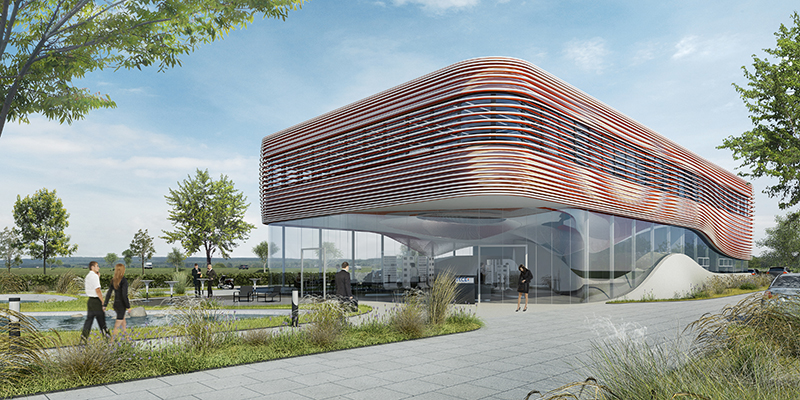 exterior rendering / ©soma