Kinmen Port Terminal, Kinmen - TW, 2014
International open competition

The port is an in-between state. It intermediates between coast and sea, land and ferry. The main architectural concept deals with the idea of pattern formation through the undulation of lines. Informed by the trajectories from land and sea it balances them in a continuous space and geometry. The aim of the design is to create a dynamic and contemporary landmark. The building's gradient transparency creates a lively and changing appearance during day and night and establishes a memorable spatial experience.
The aim of the design is to enhance flexibility of use as well as future expansion by creating a wide-spanning skin. Its light-weight and dissolved structure results in a light flooded and transparent interior. The terminal's exposure to exterior elements, such as sun, wind and rainfall is transformed into a synergetic and symbiotic relation. The skin collects solar energy and rain water, while its aerodynamic form provides less area of impact for harmful wind events. The skin functions also as a huge bioreactor fuelled by living algae, which are an alternative and renewable energy source.
The terminal's geometry is inspired by natural form pattern generation. When looking at ripples of sand they show repeating features yet the elements are not identical nor are the repeating intervals regular. The concept of the pattern allows a varied yet continuous volume, that can be locally expanded or reduced and logically extended in the future. The pattern also defines also an organisational principle – by repeating and modulating the features - peak or valley, volume or bay, the geometry can be locally adapted to functional requirements.
Project description: coming soon
Team: Alexander Nanu, Martina Johanna Lesjak, Hannes Tallafuss, Ondrej Kloub
Structural engineering: Bollinger Grohmann Schneider ZT GmbH
Climate engineering: Transsolar Energietechnik GmbH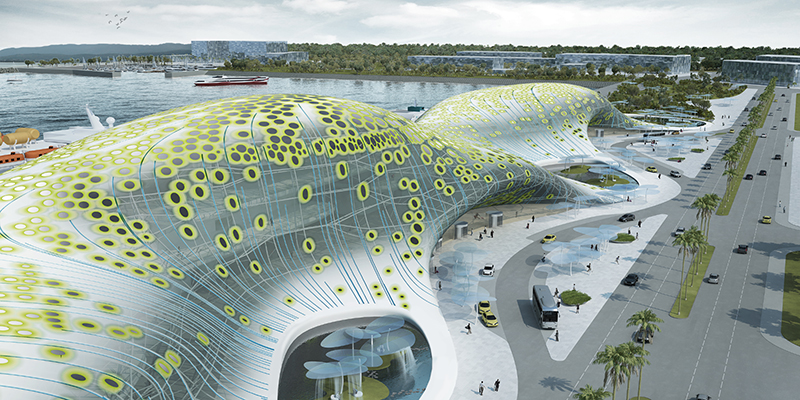 exterior rendering / ©soma